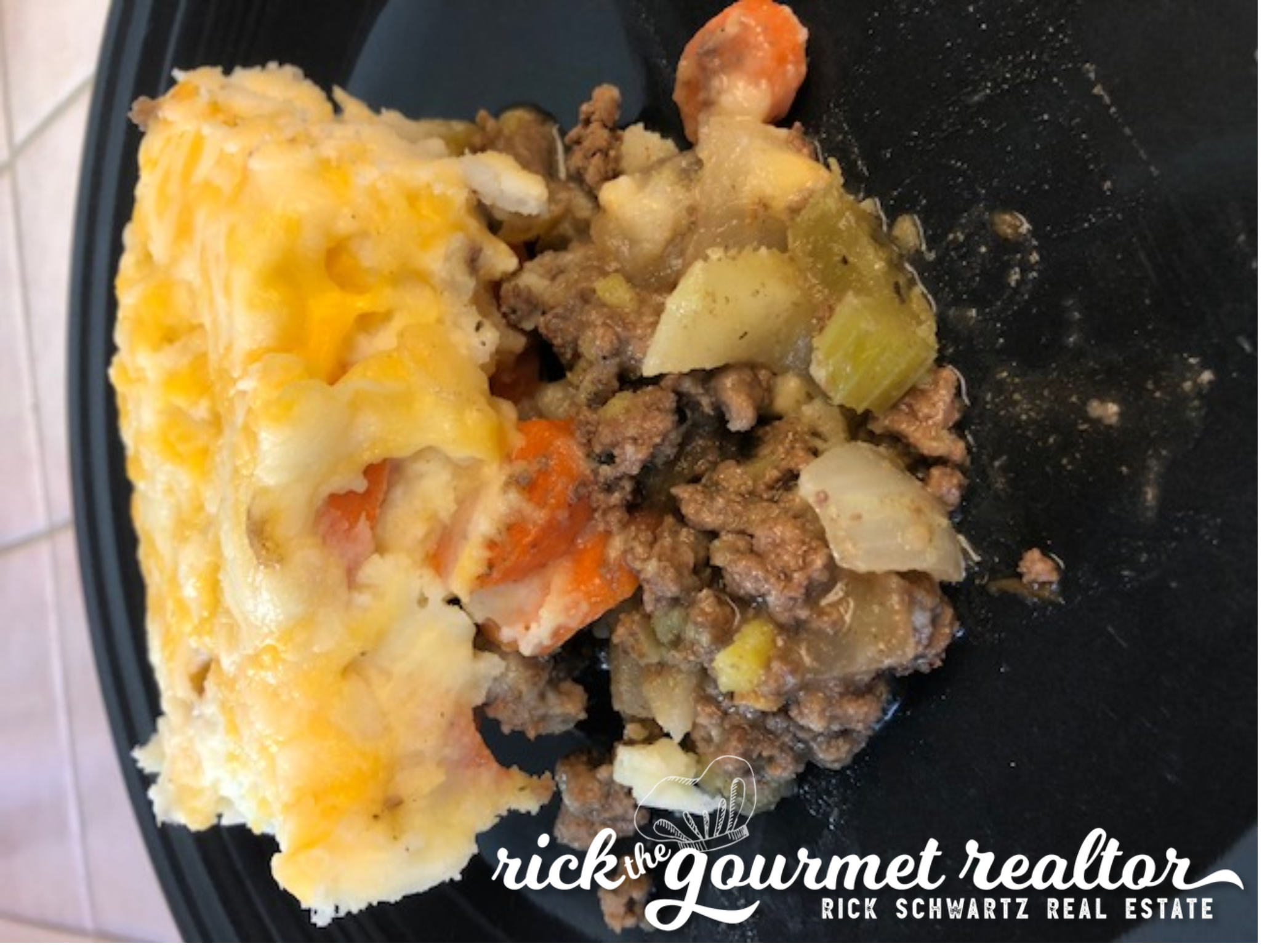 Shepard's Pie | Revisited & Better!
Serves 4 large portions
Ingredients
1 lb. Ground Beef – I Use 90/10 Ground Sirloin
1 Onion – Peeled & Cut in Big Dice
3 Carrots – Peeled & Cut into 1/4″ Slices or Thicker
3 Celery Stalks – Sliced 1/4″ or Thicker
4-6 Mushrooms – Remove Stems & Slice 1/4″ or Thicker
1 tsp. each – Salt & Pepper
1/2 tsp. each – Ground Cumin, Rubbed Sage, Thyme, Garlic Powder
1/2 Cup Wylers Beef Broth – I Use Crystals
1/3 Cup Pinot Noir
1 Tbsp. each – Extra Virgin Olive Oil & Butter
Directions
In large skillet on medium high heat, melt butter, then add EVOO, ground beef and sprinkle with salt & pepper. Cook until just starting to brown.
Then add onion, carrot and celery. Stir to mix in with beef. Cook for 5-6 minutes on medium heat until veggies start to soften.
Add mushrooms, beef broth, wine and spices. Turn heat to low and simmer for 5 minute to blend the flavors. Stir a couple of times.
Pour into a 13×9″ casserole dish and top with mashed potatoes.
Mashed Potato Topping

Ingredients
2 lbs. Russet Potatoes – Peeled & Cut into Small Chunks
1 Tbsp. Salt
3 Tbsp. Melted Butter
3 Oz. Milk – I Use 2%
1/2 Cup x 2 Shredded Cheddar Jack Cheese Mix or Mild Cheddar
Place potatoes in large pot, add water to cover by 2″, and bring to a full boil. Then add salt and reduce to low boil for 12-15 minutes until potatoes are fork tender.
Drain in a colander and return to pot. Start to mash, then pour in melted butter and milk. Continue mashing until smooth texture.
Add 1/2 cup shredded cheese and mix in.
Spoon potatoes over top of ground beef and veggies in an even topping.
Add shredded cheese in a light coating over the top of potatoes.
Place casserole dish in 350 degree preheated oven for 10-12 minutes to heat through, and melt the cheese over the potatoes.
Remove from oven, cut into squares and serve using a spatula.
Enjoy the warm & savory taste!